The time has come and you think you are ready to sell. Perhaps you need a larger home with one more bedroom or you got that perfect job in
Denver
(congratulations!). Maybe you want to find a place to live closer to your family, or you are ready to upgrade and want the mountain view on the other side of town. Whatever the reason, there are important Evergreen home selling tips and questions to consider before putting your Evergreen home on the market, and a savvy real estate agent can help you through them all.
The Evergreen real estate market is strong and you will want to do everything possible to maximize the potential for a high return on your important home investment by considering several questions, such as:
What's the market?
You will want to work with an agent who is aware of the neighborhoods in
Evergreen
, the types of homes currently on the market, what is selling at the moment, and why. There can be seasonal shifts in home selling and buying, and you will want to be strategic about when you list your property. A knowledgeable agent will also know how to pull the right comparisons to provide you with an idea of your home's value and help you understand what goes into that number including neighborhood, lot size, square footage, and the number of bathrooms and bedrooms. Even the direction your home faces can play a role in how competitive your home will be against similar homes on the market, and how quickly it will sell. Ask your agent if a "comp tour" is possible so that the two of you can compare other homes and strategize together. Many homes have virtual tours, so you might not even need to leave your couch.
What's your timeline?
It's important to consider if you have a strict timeline you need to adhere to, as this affects other decisions you make such as whether or not to complete any
upgrades
on the property first. Some home sellers are simultaneously purchasing another property and ideally will move out of one and directly into the other. When this isn't possible, you can work with your agent to include a rent-back agreement in your home's sale. A rent-back agreement can require upfront that the buyer rents the property back to you for a period of time, which could make your move a lot easier.
The timing of your sale also matters in terms of the weather. Evergreen gets nearly nine feet of snow in a year, and snow season lasts from about October through early May. There are benefits and drawbacks to selling during that long season. It will be obvious to prospective buyers whether your home shows well in snow. For example, if your driveway accumulates ice, buyers will be able to tell. At the same time, buyers during the winter might experience the interior of your home as extra cozy and charming (especially if it's well-insulated with a working fireplace!).
If there are other reasons that necessitate a fast sale of your home, it can affect how you choose to price it for sale. If a property is priced a little too high, it may sit on the Evergreen real estate market. Even if you drop the price subsequently, the chances that it will generate the same level of excitement are slim. Thinking closely about the market, whether or not you are buying another home and need to generate a minimum profit margin for another down payment, or whether you need to sell quickly will help you and your agent strategize more thoughtfully around the sale of your home and develop a plan.
Are there any cosmetic or structural repairs and upgrades to consider?
Depending on the age of your home, the last time you made upgrades, and your budget, there are some cosmetic and other structural improvements you may want to consider. Repairs are inevitable when selling a home, especially if you've lived there for more than just a few years. Some minor repairs can be fixed by yourself or with the help of family members; however, larger repairs may require hiring a professional contractor or handyman service provider to complete them properly. These types of repairs can range from fixing leaky faucets or broken windows up to replacing entire roofs or furnaces if needed due to age or wear and tear over time. If you have an older house, take some time and do some maintenance on it as it will make your home more appealing to buyers.
If you want to raise the value of your home and increase its appeal in the Evergreen real estate market, consider upgrades like new
windows
and energy-efficient appliances. If you have a
deck outside
, make sure it's washed, sealed, and repaired (and sanded, and stained). If you have outdated appliances or ones that are not energy efficient, this could turn off potential buyers who would like stainless steel appliances or newer models that use less electricity. Upgrading your kitchen or bathroom can help increase your home's value significantly. Also, replacing carpets with hardwood flooring is a great idea. And again, consider your timeline!
The easiest and most budget-friendly way to quickly and dramatically spruce up your home is simply by giving it a
fresh coat of paint
in neutral tones and to clean, clean, clean!
Do you need to "stage" your home?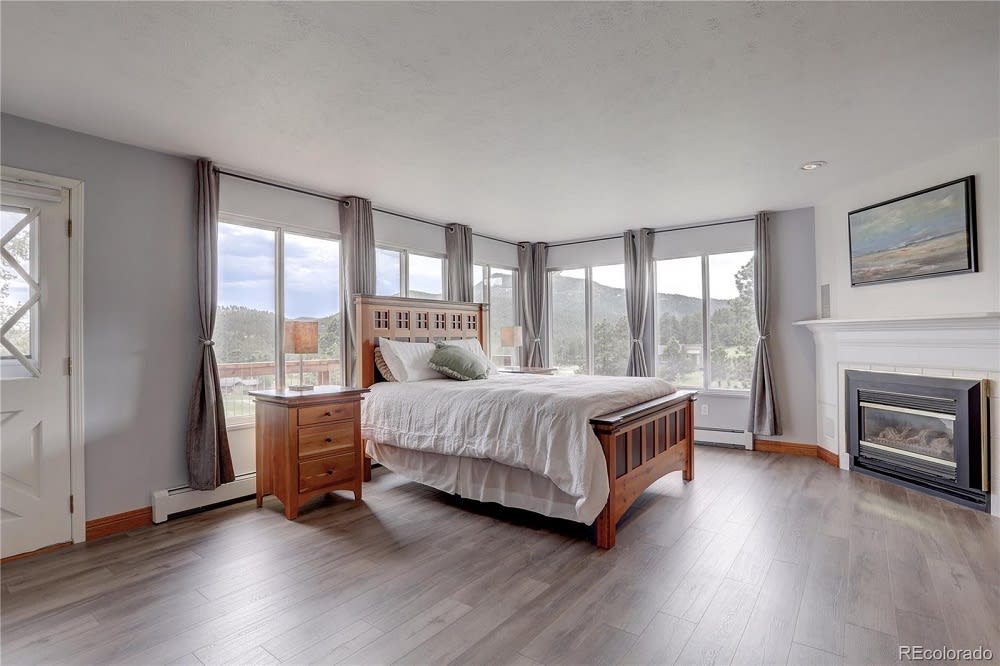 Staging your home means making it look as much like a model home and a blank slate as possible and/or adding items that showcase the uniqueness of your home. This enables potential buyers to easily insert themselves into the space and imagine how they might make it their own. So, staging requires a little "depersonalization" of your home, as well as some of those cosmetic improvements we spoke about such as a fresh coat of paint.
To prepare your home for virtual and in-person open houses, you will want to remove all or most of the personal items from the walls and closets, clean and organize and make sure that the space is devoid of all clutter. If you have a yard, make sure it looks great! Cut all the grass, trim all the bushes and trees, rake pine needles from the yard, and make sure that everything is clean and tidy.
Staging isn't all about removing items, it's also about how to spotlight unique elements of your property and what can be added to invigorate and rejuvenate the appeal of your home. A qualified professional will be able to analyze what elements can be added or placed differently to maximize the unique selling points of your space. Research
staging tips
to help make your home shine on the Evergreen real estate market.
Will you use professional photography and videography?
A
professional photographer
and videographer are definitely worth the investment in today's Evergreen real estate market. The right lens, the right lighting, and even the right angles can make your home look its most beautiful for potential home buyers and project the right sense of professionalism. A slick video will not only showcase all the features of your home but will help potential buyers imagine living in it. This can help sell your home faster and for more money.
Many agents are even incorporating drone photography into their marketing strategies because it gives an aerial view of the property that makes it easy for potential buyers to envision themselves living in a particular neighborhood or area. It also allows them to see more of the property than they might otherwise be able to from ground level. Having many images in a variety of formats will showcase your home at its best and also opens up more marketing and promotional opportunities. Ask your agent upfront if professional photography and videography factor into their marketing package and commissions.
What are the marketing and promotional strategies?
The internet is the first place we turn to find the best restaurant for date night or where to go away for the weekend with the kids. So, it's not a surprise that it's also the first place potential home buyers go to explore life in other states, cities, and neighborhoods and to imagine themselves living in new homes. What initially pulls and attracts buyers to a particular webpage and a particular home? The strength of the visuals. The best way to attract buyers is by having great photos and videos of your home online, hence the importance of professional photography and videography that we discussed above.
There are a variety of digital marketing platforms beyond the MLS that you will want to exploit to promote those fantastic images of your home including Instagram, Facebook, and YouTube. You might want to consider a virtual walkthrough of your home and even a virtual open house. A virtual walkthrough is a type of virtual tour that allows viewers to take a walk through your home while they watch the video on their computer screen. The walkthrough shows all areas of the house and allows visitors to click on each room to get more information about its features. Some virtual walkthroughs are self-directed and visitors follow arrows that click through to various parts of the home and they are becoming increasingly popular in the Evergreen real estate market.
You also have the option of including a virtual open house in your marketing plan. A virtual open house is similar to a walkthrough but your agent would be present to lead the virtual tour through the home as a kind of "webinar" and answer visitors' questions that they submit through a form or chat window. This can help to highlight key features of your home, such as hardwood floors or updated kitchens and baths, that might not be as obvious in photos alone. Your agent can then follow up with visitors inviting them to an in-person tour or open house on a subsequent day.
Of course, let's not forget the tried-and-true methods of print! Gorgeous photographs are perfect for postcards and flyers targeting home buyers and neighborhoods and are yet another way to get the word out that your home is on the market.
Go beyond four walls
Lastly, as you embark on the process of selling your home, you and your agent should come up with a plan that focuses on more than just the physicality of the space. Get creative with your agent and develop a narrative around the space and the neighborhood. Sell the story, the dream that your home represents, not just its walls. Weave a unique lifestyle through the architectural elements and rooms of your home so buyers can imagine themselves and their future life emerging from within the four walls as if the space is already their own. Have fun with it!
Ready to sell your Evergreen, Colorado home or have more questions? Contact
Diane Florschuetz
or call her at 720.626.9625.